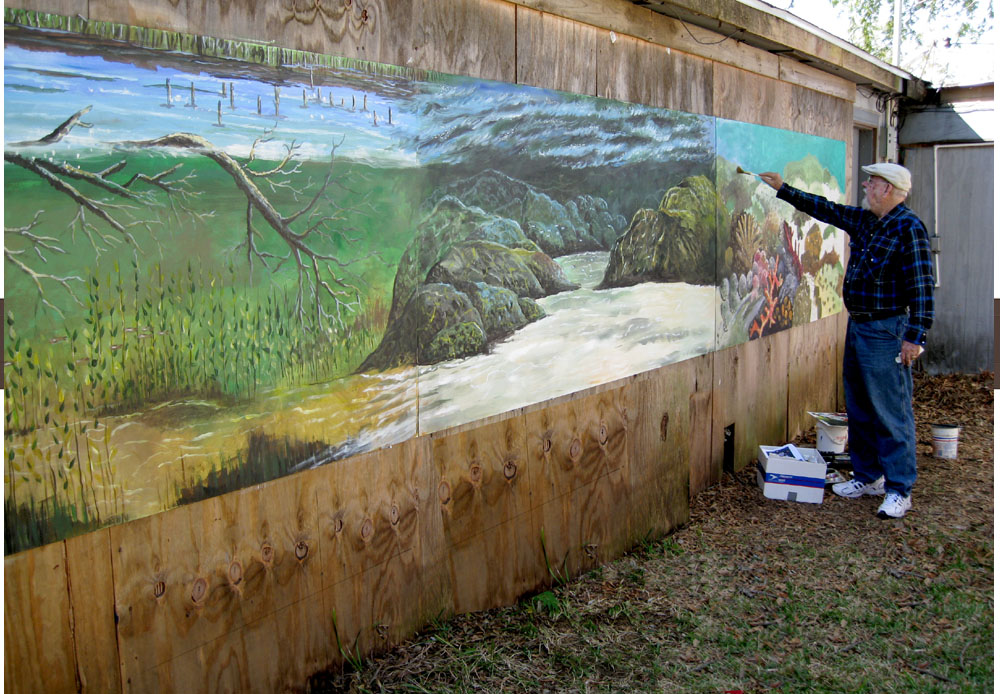 Ken "the Dauber" Pridgeon puts the finishing touches on the new mural for the Eddie V. Gray Wetlands Center.

See the article Baytown Sun Columnist Wanda Orton wrote on Ken's Hellfighter's painting

Artist donates paintings to Wetlands Center
By Alexa Garcia-Ditta The Baytown Sun Published July 26, 2007
Ken Pridgeon, better known as "Ken the Dauber," has a vision. He sees the pond near his Lee Drive home filled with children and their fathers paddling in boats and fishing. He appreciates the beauty in fish and nature, and wants kids to appreciate them as well. "A kid with a fishing pole is a kid without a gun," the artist said. Well, the Eddie V. Gray Wetlands Center is helping Pridgeon take steps toward his vision of educating children. The 72-year-old artist has donated several of his original paintings to the nature center.
Tracey Prothro, natural resource programs superintendent, said that the Wetlands Center's fishing camps and nature programs drew Pridgeon to the facility. "We do a lot of education of kids, and that spoke to him," she said. "I think they're perfect for here." The five pieces, hanging in a conference room of the main building, depict vibrantly colored fish, luscious skies and fluid waters. "I like to make my fish bigger than the people," he said. "It's a little crazy, but I want you to focus on the fish. The people are not that important."
One of the paintings captures Pridgeon's 7-year-old self, fishing in a small pond behind his house. Each nook and cranny of his piece has a different story to tell, from his mother's sewing spool, father's old reel and broken rod. "This is me in my mind as a kid," he said. "It's my first fly rod. I didn't even know what a fly rod was."
The Baytonians work can be seen all over town, for he designed several auto shop signs along North Main Street. He earned his nickname, "Ken the Dauber," about 30 years ago when he painted helicopter-landing pads. He said that because the ground was so hard on his paintbrush, he had to daub the paint along the road. "[An official] said, I dub you 'Ken the Dauber,'" he said. "A dabber is not very classy, but a dauber, that has a little flare to it."
His friends and family members been become used to calling him by his nickname, so much so that they forget his real last name. "I've been Dauber so long that people write checks to me as Ken Dauber," he said, smiling. Pridgeon is currently working on the last of three panels for the center's snake exhibit. "Chiquita [the snake] is bright yellow, and will look beautiful in there," Prothro said.
Pridgeon is a jack-of-all-trades, dabbling in poetry writing, singing and inventing. But his canvases and paintbrushes hold his passion. "[Fish] are beautiful," he said. "I want them to see the beauty in everything, not just in fish, but see the silver lining in everything."

Local artist brings history to life
By Nathan Hague The Baytown Sun Published June 25, 2010
Ken "The Dauber" Pridgeon is working on several projects, one of which is a mural for the Old River Winfree Founders Day.

He isn't quite done with it yet, but he knows exactly what he expects the finished product to look like.

"It's going to say 'Welcome to Old Historic Old River-Winfree,'" he said pointing to the top of the mural. "This is for their events (Founders Day) coming up. What they wanted was a ferry going across so I will have that and carriages, and people waiting in line to get on. I might have a hound dog or two in there. At first, they were telling me what they wanted me to do but then they were like 'no, you know what you're doing. You do what you think is best.'"

Founders Day is held each year on the third weekend in July, and is meant to celebrate the history of the community, which is pretty fitting because Pridgeon himself has a passion to preserve the area's history. That can be seen in his painting of Texas Avenue in Baytown from in the 1930's.

Pridgeon has 50 years of experience as an artist, so to say he's an expert would be an understatement. "The joy is the journey," he said. "It has nothing to do with just getting there. It brings me great satisfaction to see the progress along the journey."

Pridgeon started painting casually as a kid, but didn't go in depth with it until he was in the Air Force.

"I knew I wanted to paint when I was young," he said. "When I was I a kid, I used to paint ducks, and deer, and other wildlife, and I enjoyed it. Then I later joined the service, and at any big event, I was always making posters, and I later started painting pretty girls on billboards, or whiskey bottles or beer, that kind of thing. I painted a lot of automobiles on billboards. We did a new one every year.

"The thing about it was, those billboards were about 50 feet high, and we would get up there and trace the dusted pattern with a pencil and paint with rags. It was dangerous work, but we kept at it. It was something else, really."

Several of his paintings can be seen in galleries, homes and different businesses throughout the area. He also has several paintings in his home that he's worked on through the years, and he runs the "Dauber School of Fine Art" in his home. "I don't want my painting to just be another painting," he said. "They all tell stories, and that's the way the way I want it."

'The Dauber' teaching art for all ages
by Travers La Ville The Baytown Sun Published January 23, 2010
It wasn't until his 72nd birthday that Ken "The Dauber" Pridgeon decided to pursue his passion for painting when his son, Shawn, asked him to paint a portrait for a friend's funeral.
Shawn died one year ago but his encouragement spurred "The Dauber's" talent and led to several commissioned paintings throughout the city, hundreds of portraits and the opening of the Dauber School of Fine Art.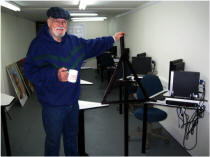 The school at 216 Morrel Avenue opened Monday and has 15 students enrolled. Classes are 3-hour sessions Mondays and Thursdays at 10 a.m. and 2 p.m., Tuesdays at 10 a.m. and 6 p.m. and Saturdays at 10 a.m. He dedicated the school to the memory of son Shawn Edward Pridgeon. "He wouldn't take no for an answer," Pridgeon said. "There is no way I would try to teach without his encouragement."
Eighty-eight people joined "The Dauber" at the school's grand opening celebration Jan.16. The crowed huddled inside of Pridgeon's home and were entertained by an art demonstration by the artist and complimentary barbecue. "It was a good time," Pridgeon said. "I'm glad there was enough barbecue and people showed up in the weather. Students will learn to paint by using the "Dauber System." The method uses Corel Draw 12, a graphics program, to impose images onto landscapes or scan images, which are then projected onto a canvas for the artist to paint.
Pridgeon walked a long hard road. to became "The Dauber." While he was in the Air Force, Pridgeon was known for his drawing talents and was often asked to draw for fellow airmen.
In 1956, while stationed in Florida, he took Norman Rockwell's famous artist class. During the class, Rockwell showed how he used a projector to paint the majority of his work. A fan of Rockwell's, Pridgeon was disappointed in the artist's painting method. "I was so mad," he said. "It took me a week to get one." After the military, Pridgeon tried to find work as an illustrator for the Houston Post and The Chronicle. "They say they couldn't use me do to lack of experience," he said. "I told them I was trying to gain some." Unable to find work drawing for newspapers, he set his sights a little higher, 65 feet to be exact.
Pridgeon went to work for Eller advertisement as a billboard painter. Every day he would strap ropes through "falls," hooks on both shoulders, and battle yellow jackets and pigeons for equal space. "We had to let the yellow jackets sting us," he said. " It's not like we could run away." The final straw for Pridgeon was when a pigeon flew into his jacket on the job.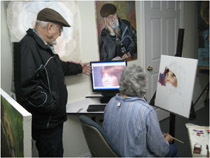 "He flew head first into my coat, probably just wanted to borrow my jacket," he said. "That was the last day I clocked into that job." After a career in sign painting, he went into business for himself painting the sides of barges and helicopter pads. "Painting barges was good money," "The Dauber said. "I was the only one dumb enough to do it." But it was the blotting technique he used to paint helicopter pads that earned him his nickname.
"I was knelt down painting when a woman was trying to figurer out what I was doing," he said. "I've been 'The Dauber' ever since." Now his artwork can be seen at Roosters Steak House, the Baytown Historical Society, City Hall and the Eddie V. Gray Wetlands Center. Two years ago, he was asked to teach a portrait class and become a member at the Baytown Art League. It did not take the artist long to find he could also be passionate about helping others find their creative outlet.
Along with friends Alan Theis and Mike Meyer, he built The Dauber School of Fine Art in only three weeks. The school is equipped with five workstations with computers and was not built with grants or loans. " We couldn't afford contractors," "The Dauber" said. "It was done with hard work money from my own pocket." He said the road he has traveled was not his intended path but he's excited about his adventure in art education and being a constant student of his craft.
"All I was trying to do was be a portrait artist," "The Dauber said. "It's amazing what you can do in 75 years."