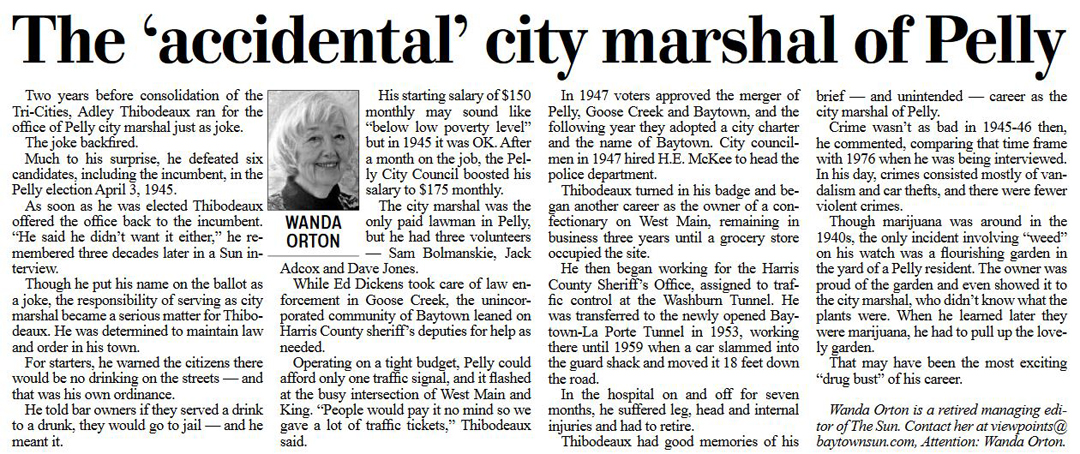 Texas State Historical Association link on Pelly. Fredrick Thomas Pelly Document. Fred T. Pelly news article complements of Angie Middleton

Pelly and Baytown (Humble Refinery side) were separated by the Goose Creek stream.

Pelly took it's name from Englishman Fred T. Pelly, an area pioneer and first mayor.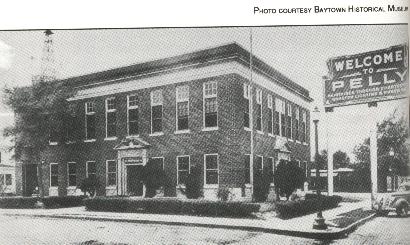 Early Pelly was known as Middle Town and was a hastily constructed boom town with wooden and canvas structures. Most of the residents were squatters.

Middle Town incorporated in January 1920 and became Pelly.

Pelly's business district was located on the Pelly-Baytown Road (currently West Main).

Pelly named their Bank Goose Creek State Bank (never getting over the fact that Goose Creek had stolen their Post Office). It fell on hard times during the Depression and was taken over by a Goose Creek Bank and moved away.

Robert E. Lee High School was located in the Pelly city limits. Goose Creek unsuccessfully tried to annex the complex.

Anson Jones, Horace Mann Junior, Sam Houston Elementary, and (what was then known as) the colored schools were in Pelly.

In 1944 Pelly voted to remain independent of Goose Creek. In 1945, Pelly voted itself a home-rule city with a charter.

The first Mayor of Pelly was Fred Pelly and E. D. "Eddie" Cleveland was the top elected official in Pelly. Wanda Orton Read Wanda Orton's explanation on how Pelly came into being. CLICK HERE

On Monday, January 26, 1948 the city of Pelly officially became the city of Baytown...the second largest city in Harris County (Houston).

Pelly - Home of the Pelly Rats as told by Mrs. S.E. Iles of Old River, Texas
Much of the information on this page comes from the excellent book 'Baytown Vignettes', or 'The History of Baytown' available at Sterling Municipal Library and the Baytown Historical Museum located at 220 W. Defee and Wanda Orton.
Pelly incorporated 96 years ago by Wanda Orton
Wish the city of Pelly a happy birthday next Tuesday, Jan. 19, 2016. Although Pelly is no longer a city unto itself, it's good to remember the birth date of its incorporation in 1920.
Fear can be an effective motivator, and the fear of being annexed by Goose Creek motivated Pelly's incorporation. The previous year – on Jan. 28, 1919, to be exact – the city of Goose Creek was born, and this put the people of Pelly on the alert. Meanwhile, Baytown stayed away from the fray, its citizenry content to remain a company town – as in Humble Oil & Refining Co. – with no municipal strings attached. Why bother to incorporate. The oil company that founded the Baytown Refinery would take care of all its needs. Having no fear then of being annexed by any city, Baytown was taken aback by a municipal maneuver in late 1945. While no one was paying attention, Pelly annexed the contented company town. Kicking and screaming, Baytown had to change its name to Pelly. Anger, they say, can be an effective motivator, and anger motivated Baytown finally to join in the longtime talk about consolidating the Tri-Cities of Baytown, Pelly and Goose Creek. Pelly's annexation of Baytown was a blessing in disguise, leading ultimately to consolidation in 1947. The following year voters approved a charter and the name of Baytown for the city.
But we're getting ahead of the tale of the original two cities, Pelly and Goose Creek. Return now to January 1920 when Pelly incorporated a year after Goose Creek did so in January 1919. Goose Creek, informally known as New Town, adopted the name of the stream that ran through it. Though not documented, the story goes that American Indians picked the name of Goose Creek for the meandering waterway. Not long ago a Sun reader questioned the name of the Goose Creek oil field, saying he always referred to it as the Pelly oil field. The development of the oil field, however, preceded the naming of the city of the Pelly by several years.
In another life, Pelly had been known as Middle Town. Why was the name Pelly chosen? Well, everyone seemed to like this British chap, Fred T. Pelly, who came to America in the late 19th century and married Lucy Alice Wiggins, member of a pioneer family in this area. The locals not only named their city after Pelly, but they elected him as their first mayor as well. Pelly's father-in-law, Daniel Wiggins, owned 350 acres, much of which was inherited by daughter Lucy. The property had been purchased by Wiggins from Mary Jones, who moved here after the death of her husband, Dr. Anson Jones, the last president of the Republic of Texas.
The discovery of oil on John Gaillard's property, on the Tabbs Bay waterfront, changed the landscape – and seascape -- of this entire area, setting the stage for the development of the petroleum industry and the making of cities. By the way, Fred T. Pelly heartily approved of the name Baytown.

Pelly - a.k.a. Utopia - remembered
Wanda Orton | Posted: Sunday, March 6, 2016 12:00 am
Having spent most of my childhood in old Baytown, with only a brief pre-school sabbatical in Goose Creek, I've been history-challenged about the original city of Pelly. Fortunately, over the years, friends like Robert Floyd, Lou Floyd Elam and Charlotte Ellis Pate, have come to my rescue, sharing recollections about growing up in Pelly.
Another reliable source for Pelly history and personal memories is Buck A. Young's award winning article, "Remembering Utopia," published in 1982 in the East Texas Historical Journal. As Buck remembered it, Pelly was Utopia, and his remembrances are invaluable to local history buffs. If you are one of those buffs and would like to read the article, it's just a computer click away. However, if you don't have time to look it up, I'll try to summarize some of the things Buck wrote about.
Envision this: Two young brothers sitting atop fire hoses in the Pelly fire station at city hall, devouring ice cream and doughnuts until their stomach hurt. Against parents' orders, the brothers wander over the railroad trestle near Robert E. Lee High School. Every Friday night they go to the picture show at the Alamo Theater, avoiding the rowdy kiddie matinees on Saturdays. Reading comic books at Leggett's Drug Store, they have a habit of putting the reading material back on the magazine rack instead of making a purchase. Their family has to pick up their mail at the general delivery window at the Pelly post office until the city finally recognizes their home address.
The brothers spend hours at the library inside City Hall, trying to read every book on the shelves. All that — and more — is the story of Buck Young and his brother, Dick Young, growing up in the mid-century city of Pelly, population 5,000. "Welcome to Pelly," said the huge sign on Main Street by City Hall. "Our City Hall was much more than just a place where the city council met and you paid your water bill," Buck wrote. "The upstairs auditorium was used by civic and church groups too, and downstairs a large room housed a branch of the Harris County Library." On the King Street side of the building was access to the one- pumper fire station, and it remained there until a new station was built on Nazro. Next to the post office on Main was the Miracle Store where customers bought clothing and dry goods. Among other business places downtown were the Ice House, Bush's Cafe, Katz's Grocery, Ledner's Second Hand Store, Sunbrite Bar, Modern Cleaners, Wainscott's Five and Dime, Eat-A-Bite Cafe, Stephenson's Grocery, Kaiser's Hardware, Good Luck Store and the Red Cab station.
"Everyone's favorite hangout was Leggett's Drug Store where Eddie and Sally Cleveland adopted every kid in town, and later, the kids' kids," Buck wrote. "Images of strawberry ice cream sodas, cherry phosphates, root beer floats, and hand-packed, store-made ice cream placed in square containers run through my mind when I remember that al1- American drug store. The world moved slowly and unchangingly in that pharmacy."
Buck frequented Creel's Barber Shop next to the vacant lot where the Nu-Gulf Theater once stood. A shoeshine man named Tamp worked there, getting around on a low platform equipped with wheels. Tamp had lost both legs in a train accident. With his shoeshine revenue, he put a niece and nephew through college — an accomplishment Buck didn't know about until he read Tamp's obituary in The Sun. Next to the barber shop was Stephenson's Grocery Store, the first business established in Pelly.
(Editor's note: A retired Air Force major, Buck authored the book, "The Making of a City," a history of Baytown since consolidation of Pelly, Goose Creek and Baytown.) Wanda Orton is a retired managing editor of The Sun. She can be reached at [email protected], Attention: Wanda Orton.