BB's Geocaching Made Simple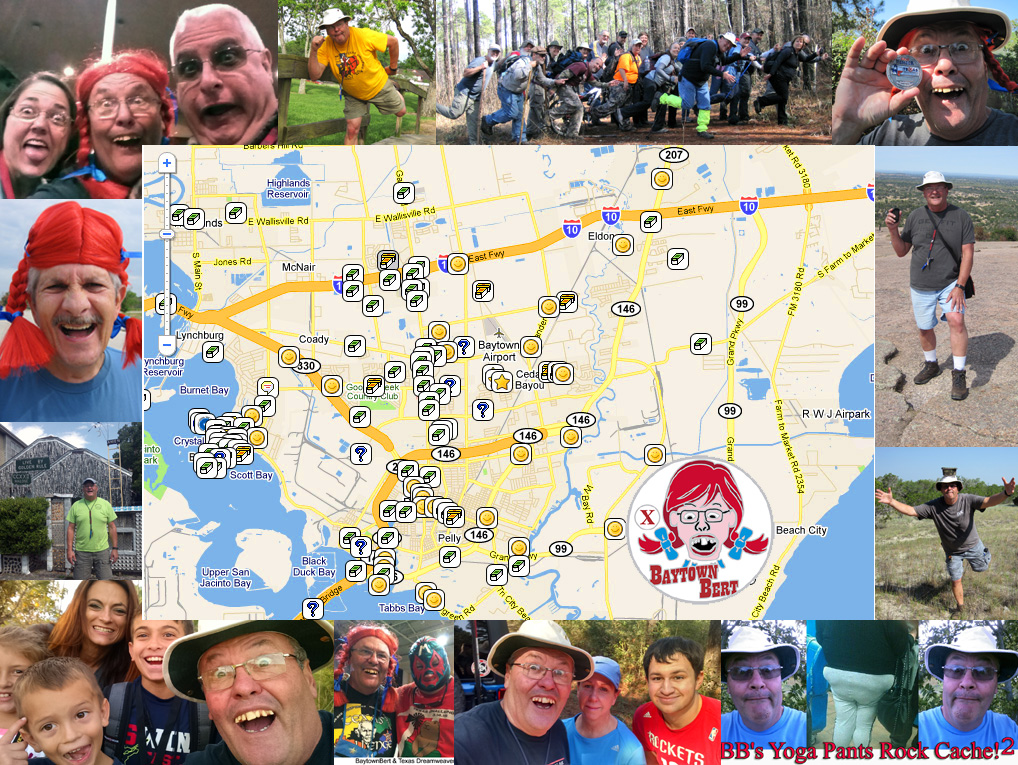 Register for free here at Geocaching.com
New Geocachers - this game is based on leaving something of equal or greater value, so if you take something - leave something. Always bring cool items to trade and bring something of real worth in case you find something really cool and you take it. Read the Geocachers Creed. Other resources are located at Geocaching Central.
- After you've found a cache, go online to geocaching.com and write a log. Resist the temptation to type TFTC (Thanks for the cache), but instead write something meaningful about your experience at this particular cache.
- If you visit a cache and can't find it, log it in as a DNF (Did Not Find). Many many experienced cachers have trouble finding a cache. Be honest about it.
- If you find a Travel Bug, Geocoin or any other trackable item, do not keep it, but move it to another cache and log it in - or best of all, leave it in the cache and log it as DISCOVERED! You get credit for the trackable and you don't have to relocate it..
- Take care to hide the cache back right where you found it and camouflage it so muggles (non-players) do not find it.
- Don't stick your hand any place you can't see - use your walking stick to probe for snakes.
- If you own a kayak or canoe, there are many geocaches hidden on local waterways. You don't need to worry about getting luxury yacht charters to navigate the rivers and lakes. Smaller boats are the preferred travel method.


BB is the originator of the famed "Berty tube!
- If you decide to hide a cache, wait until you have found about 50 or 60 before you attempt it so you learn the ropes. When placing a cache, avoid the temptation to hide a Micro in the bushes next to a 7-11 or restaurant, etc. These are known as high muggle areas. Be creative, do your homework, and place one somewhere which requires the finder to do a hike, visit a historical area or place of interest. In other words, send a person on an adventure, not a visit to the Home Depot parking lot.
These notes from Geocaching.com are excellent advice. This site also: The Ultimate Guide to Geocaching
1) Place the geocache container back where you found it.
Avoid the temptation to "be a better hider" and move the geocache to a new, more difficult location. The hint and description on the cache page will no longer be accurate. Other geocachers might not discover the cache and it could be archived.

2) If you take a Trackable, move it along ASAP.
Geocaching Trackables, like Travel Bugs ®, are launched by other geocachers with a mission. The Trackables should be moved from cache to cache. They should never be kept. If you find a Trackable, try to move it to the next geocache as quickly as possible. If you're unable to move a Trackable within a few weeks, leave it for another cacher to move along.

3) Write a "Found it" log you'd like to read.
Share the joy of geocaching by writing logs about your caching adventure. Tell other cachers about the trail conditions, local landmarks you enjoyed or the trip to the geocache. Don't forget to thank the cache owner for placing the cache.
CITO - Cache In Trash Out - Go in for a cache, but carry out trash. TNLNTFTC - took nothing left nothing thanks for the cache. Geocaching terms here.
I've written primers on a wide range of geocaching subjects to help players have an understanding of the game.
Upgrading your containers/boxes How to raise the quality of the game.
The 5 stages of a geocacher We all go through these phases.
Time to archive inflationary geocache hides? Are lamp post hides a bad thing?
Chasing Geotour Coins and Swag Are we looking at Geotours all wrong?
Why are you hiding geocaches? Do you want geocachers to find your hides, or not?
What is Geocaching Mojo? At what point should I begin hiding geocaches?
What is your geo-name again? How to protect your reputation as a geocacher.
What is your geo-name again - revisited How to help other geocachers recognize you.
What is more fun than geocaching? Remember this is simply a game.
What happened to geocaching events? Raising the quality of events.
Travel bugs and geocoins Everything you need to know about trackables.
So you want to hide a geocache How to hide a geocache.
Rating a cache's difficulty/terrain primer The D/T grid explained.
How to write a good geocaching log primer Yes, it should be more than TFTC.
What would happen if I wrote a meaningful log? More on the importance of writing a great log.
How to raise the size and quality of your hides. How to upgrade the quality of your existing geocaches.
Geocaching safety and a dose of common sense Like the title says. This game can get you hurt.
Geocaching burn-out – it can happen What happens when geocaching is no longer fun.
Hiding an evil geocache primer So what exactly is an evil geocache anyway?
Where Oh Where did my Cache go? What to do when a geocache has moved off coords?
Geocaching attire for Summer primer What to wear when you go geocaching!
How do you explain why you do not follow the rules The rules are the rules, right?
Hamster Wheel Caching! What is it and why am I doing it?
You are different. What does my geocaching hobby say about me?
Is it time to overturn the wagon? Are there too many geocaches of low quality?
Baytown has Lab Caches galore!
BB's Goose Creek History Tour
BB's Original Adventure Lab!
BB's Baytown History Tour
BB's Baytown Points of Interest
BB's Travelers Delicious Dine-In's
Baytown's Delicious Dine-ins
Baytown's Art-Venture Lab
Baytown's Geocaching Adventure
MWG's Beach City Adventure

What you SHOULD take when you Geocache
| | |
| --- | --- |
| GPSr device | Pen - Pencil |
| Spare batteries | Shoulder bag to carry cache items |
| Multitool | Insect repellent |
| Swag items (stuff to trade) | First aid kit |
| Cell Phone | Walking stick |
| Sun-block | Water - Gatorade |
| Telescoping mirror | Spare log books |
What NOT to Leave in a Cache
| | |
| --- | --- |
| Food or strong smelling items | Items which are affected by heat or cold |
| Sharp items - Knives | Ammunition (someone suggested I do this) |
| Tobacco products | Adult items |
Where NOT to Place a Cache
| | |
| --- | --- |
| RR tracks or RR property - you will be trespassing | Private business/Property w/o owner permission |
| Under road or RR bridges | Ammo boxes in public places (they look like bombs) |
| Homeland Security high-risk targets | On school property or public right of ways (high traffic) |