Charles A. Frazier: I was born at the old Baytown Hospital on Defee. Dr. Bridges delivered me. As I grew up my Mother worked for Dr. Bridges on Defee and Pruett. The draft board was on Defee, and the Post Office. I guess in some sense Defee was one of the main arteries through Baytown. As a kid I joined the Cub Scouts and later the Boy Scouts. I played little league baseball for Ike Winningham and Freddie Hand. Our sponsor was Payne Brothers, which was a men's clothing shop on Texas Avenue.

My father later owned Burley's drive inn on HWY146. I worked for him briefly until the Viet Nam war was escalated and then I was drafted. Left the draft place on Defee on August 15, 1966 and ended up at Fort Polk. Later I was sent to Cu Chi, Vietnam until I got out of the army on July 27,1968. I came back to Baytown only to find that a lot of people had moved, but my parents were still there which was a relief. I would say that growing up in Baytown was very special to me. I often think about those old times at the kiddy show and spending time at the library next door to the Brunson before Citizens Bank moved in

HARRY M. HINKLEY 1896-1982 How does a single, young man of maybe 22 years old from Hartford, CT end up working in the Humble Oil and Refining Oil fields in Galveston, Texas? Dad had worked at Arrow, Hart & Hagerman a division of the Pope-Hartford car manufacturer in Hartford, where he got a small metal splinter in his eye as the result of an industrial accident and had to wear glasses.

He had been recently rejected by the Navy because in those days wearing glasses was considered a physical defect. So he and his life long buddy Ray went to down to New York City to celebrate the fact that his buddy Ray had been accepted by the Navy for enlistment. After too much celebrating, he alone ends up being shanghaied to work on the crew of a cargo ship bound for Galveston. Arriving in Galveston, probably with the world's biggest hangover, he went to work for Humble for almost 3 years, until he met up with a local representative of Colt Patent Firearms from his home town of Hartford.

Business was great as most everyone in those days carried. It probably helped keep the crime rate low. In 1923 he went back to Hartford with Colts and remained with them for over 40 years. The photos are actually Post Cards. The photo's by "E.G. Allen" The photos measure 3 1/2" H by 10" Long and are adhered to the Post card stock. They are imprinted on the back "POST CARD" "Place stamp Here" and an area for "Correspondence" Regards Richard H. Hinkley Murrieta, CA
5-30-10 My name is Chris (Creel) Bauer born at the old San Jacinto Hospital, Baytown and raised in the J M Huber company housing camp. After stumbling on to your website the first entry I read was by Weldon Haltom. He mentioned playing and romping through the woods at J M Huber with the camp kids but he didn't mention any names. Being one of those kids but on the younger end of the Huber gang I don't remember him. However I remember several of the incidents he mentioned. Actually Mr. Sam Sjolander was in a round about way my great uncle, his brother was married to my grandmother's sister. Huber Camp, as we called it ,was a great place for kids to grow up. With Cedar Bayou on one side we kids spent many a day exploring the banks and building forts in the densely protective woods. Maybe Mr. Haltom was one of those visiting boys that took part in the girls against the boys wars. Each group making it their mission to seek out and destroy the others forts. As our camp gang grew older we took our adventures further from camp down the railroad tracks, across the trestle and deep into the back woods that hid a long forgotten graveyard. Some of the sunken graves were marked with stones dating back to before the Civil War. Family plots were still distinguished and set apart by ornate fences. For the kids brave enough, a small group would be led each Halloween by Anson Baker to the cemetery...I never was up for the adventure so I don't know how many actually made it. In 1972 Anson lost his life by falling from the very same trestle and drowning in Cedar Bayou.
The kids of Huber Camp were a very special group and blessed to have grown up in such a wonderful place. I hear we have lost several more kids in recent years but would like the opportunity to attend a reunion someday and relive some of our childhood adventures. cbauer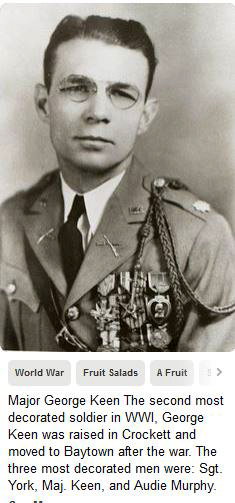 4-20-04 I was born in the old Baytown Hospital on Defee in 1949. We lived on Bolster St. in Pelly then. In 1954, we moved to Sjolander Rd. I can remember my parents telling friends to "go out Sjolander till you see a brick house. That's us." My grandfather had a shoe repair shop on East Wright. His name was Walter Hollomon. I had a lot of fun when I got to hang around the shoe shop.
As a kid, I spent a lot of time running through Cedar Bayou woods with my friends from the Huber Camp, the J.M. Huber Co. housing project. We found lots of great stuff in those woods, including some of John P. Sjolander's original manuscripts. We went and got Mr. Sam Sjolander to show him the trunk. Most of that stuff is now in the Baytown Historical Museum, I think. When I went in the service in 1969, I didn't think I would come back to Baytown except to visit my folks. Ha! I came home, got married and started my family.
I have so many memories of Baytown from my "old days". I remember when Texas Avenue was crowded on Saturday mornings with foot traffic in the stores. My cousin, Wayne Gray, co-owned the Tri-City pharmacy on Texas Ave. They had a real soda fountain. So did the Rexall Drug store in Pelly, owned by Eddie Cleveland. He and his wife were wonderful family friends of ours. Remember the Kiddy Show on Saturday mornings at the Brunson Theater? One of my funniest memories is of being at the old Henke & Pilot grocery on Texas at the old traffic circle ( remember that?). My dad was a Pipe fitter for Local 211. My mother was writing a check for the groceries and the clerk asked, "Does your husband work for Humble?" Momma replied "No, but we're going to Heaven anyway!"
Several years ago, a young man showed up at my dad's house and wanted to question my dad about the old days and the red-light district of Baytown. Seems everyone he asked for information told him "You need to talk to Tex Haltom." Daddy had a taxi company and a Gulf service station back then. He hauled a lot of sailors from the docks to the "district" and anywhere else they needed to go. I sat and listened to these stories while the young man took notes and we all laughed a great deal at the tales. I like to listen when the old folks talk. We need to listen to them more. Thanks for the opportunity to reminisce. I really enjoy reading the other memories posted here. Weldon Haltom
6-14-03 Can anyone in Baytown tell me what happened to the "Live Goose Races at Bicentennial Park " that Parks and Rec had back in the early 80s? I was a part of this as I worked for the Parks and Rec Dept. back then and loved setting up those races. Someone please tell me why the live races no longer exist. I am coming down this July 4th and thought about how it use to be run at the park. Thanks for the help! Sincerely Tracy Partin 1975 graduate of REL

1-31-03 I was born here in 1946 at the old Baytown Hospital on Defee Street. Can anyone else remember the smell when you walked through the door? As soon as you did, it reminded you of all of the shots you had received. Remember all emergencies went to the side door and had to ring the bell after hours. I would love to see any pictures of the old building. If you were patient, while waiting for Dr. Hughes, Less would come out of the lab and let you know your results as he posted it on Dr. Hughes door. My son, Jonathan, was also born there. My room was next to the delivery room door and I spent Dec. 31 watching all the expectant dads pacing in front of the doors. I took my little darling home on New Year's Day. My grandfather, Tommie Williams, worked for the city. I have a picture of him on a break, drinking those small coke's. Remember how strong they were in those days? He was standing in front of the locomotive, now located in Roseland Park. He and other city workers pulled along tracks by pulling it with big ropes. They would then move the track from behind the engine and put them in front of it; pull it again, and again, move the tracks. The picture of the men was taken at the corner of Commerce and Texas Ave. Roseland Park was built the year I was born, and was a big deal to my parents. The first time they took me to the "little" pool I accused them of trying to drown me. Does anyone remember Lonnie's School of Hair Design on Texas Ave. before they relocated to Bay Plaza? My mom, Evelyn, was a teacher there. I still have people tell me what a wonderful person she was to take a real interest in them as a student. When she died in 1992 of Liver Cancer, every nurse on her floor sent personal notes about how she wanted to know all about them and how she helped them by just listening. My dad was an electrician for GCCISD in 1960.
I rode to school at 6:45 every day and went to the cafeteria for Marie's coffee, huge biscuits and plum jelly! She was a wonderful cafeteria worker. I retired from GCCISD myself in July 2002 and one of my duties was payroll for the cafeteria staff. I loved REL and was thrilled that my kids graduated there. My son led the school song at his graduation. I remember all the practices for Brig for my little girl, Elisabeth. The day after she found out she made Brig, I had to wake her to news of Lee burning. She....no...we both cried for a long while. She now has five children. I remember the car lot at the corner of Pruett and Defee having funny signs to read. Remember how great the hamburgers were at Bernice's grill across from Gulf Coast Hospital. Bernice was my aunt and died last year. Remember the cafe in Pelly at Main and Lee drive. I've never seen so much food put on a plate! That was owned by my Uncle, Garland Coker. My grandparents lived from '44 to '82 on Graham Street. In those days, everyone kept their yards in perfect condition. We said they caught the leaves in the air before they hit the ground. I sat on the attic stairs in the back yard of their home and watched the men put up a oil well on the other side of their alley. Very entertaining for a 7 year old. I remember Glen Arbor when it was new homes and no grass.....and no homes at all on the left side of Pruett Street. Remember Garth Road when there was nothing between the hospital and Garth Rd. Bap. Church except two houses and a barbershop. I remember paying my house not at Citizens Savings when it was in an old dark brick home made into a business. I remember walking to the Brunson with my cousin and being excited to sit in the round bench in the lobby. I could take a quarter and get popcorn, coke and candy, and pay for my ticket, which was .15. Did anyone else ever slide down the forbidden fire escape at Anson Jones Elem? And remember the old cotton wood trees in the school yard? Thank you for making this site of memories. I do wish there were more historic pictures. Maybe I can help. I'm Sharion Gay Clark and married to David, my most wonderful husband. He was an army brat and traveled most of his growing up years, so he could not get over the fact that, no matter where we were, we would run into someone that I know. He expects it now, so we are never in a hurry.
I can see your site is going to out grown the space........there are many tales about Baytown.....when I was a child there was a strike at the movie theaters....state wide, as well as I remember....anyway, the Texas Rangers were sent down, there were picket lines, and, of course, we were not allowed to go to the movies across those picket lines...we used to sit in the car with my dad when the Texas Rangers were around...sometimes a stink bomb would go off, and you could see the people running out of the movie waiting for the worse, not realizing that the smell was the worst of it.....I remember that Del Mont hotel...it was next door to the hospital....my 2 brothers were born there, and my dad passed away there. As for the German prisoners...they built a lot of the houses in Morrel Park. known as government houses...they were small houses, with rock roofs, and covered with asbestos siding.....the prisoners would come out every day on a big truck and there would always be a guard with them......my mother wanted to feed them, but what they wanted most was cigarettes. American cigarettes......my dad wasn't so generous with his cigarettes, but my brother, who was about four or five at the time, would sometimes take cigarettes to them, unbeknownst to my dad.....we used to play in the hot tar when they would put on the roofs...you could chew it like stiff gum.....anyway......there are so many stories...I do plan to write a book one day.....not only just about Baytown, but about my life......it has been a real 3-ring circus........GOOD LUCK WITH YOUR SITE ! Emma Hutchinson
I enjoyed growing up in Baytown, I was born in 1956 and stayed in Baytown until 1979. My dad ran a used furniture store on West Main not far from the West Main Cafe as many Baytownians will remember. Remember Partin's Furniture? I had many great memories ranging from living on Nebraska street, Inwood Dr., and lastly in Lakewood on Wildrose Dr. I used to go to the Brunson theatre, Bay Plaza theatre, Bayway roller rink, and old Crow Rd. It is my hope that all the old history is somehow preserved in Baytown, especially in Texas Ave. area! That is very important to me. If you are interested, my Dad is still in the furniture business, but here in San Marcos, Tx. My grandfather passed away (NG Hopper) but my Grandmother still lives and works with my dad on a daily basis. I miss the old days of walking from Horace Mann to my Dad's store and going and getting an ice cream down at Eddie Cleveland's drugstore! Oh, I miss those days! Let me know if you remember our history on West Main with our store. Best of luck to all the Baytonians! If you are up this way stop by and visit with us at the ol' furniture store in San Marcos, Tx. Do they still have the "Kid Gar fishing contest " in Baytown? I use to enter it and go fish at Adam's fishing pier...hahhahaha , those were the days! Oh, by the way, I am Tracy Partin, son of Bill Partin (who owned the furniture store). Forgot to put that in there! 1975 graduate of Robert E. Lee!
Just read your site and found it interesting...we lived in Morrell Park for years...my dad was retired from Humble (Exxon) and had been a Texas Ranger in 1934......he worked a lot with the police department in the 50's especially and was the jailor for M.M."Fats" Brown...who was the Justice of the Peace in the 60's......"Fats" had been a deputy sheriff for years...heart failure took him shortly before my dad....A.K Ready....both of my brothers were born in the old Goose Creek hospital and have Goose Creek on their birth certificates....Can anyone remember the Texas City explosion????? I was in the 3rd grade for Mrs. Brawelll at Lamar Elementary...it shook the whole area.....we thought the refinery had been bombed, and that the war had finally reached Baytown...what goes on in the minds of children....I now live in Calif, and have for years, but my folks are buried out Garth Rd., and we have a childhood friend buried in that graveyard across from Lee High School..oh, yes, I remember the ferry, and was on it one night when it missed the slip and almost sank !!!!! Baytown has a very interesting history, and a lot of good memories....Good luck with your project. Emma Hutchinson Sacramento, California
I lived in Baytown from 1968 to 1984. I have some great memories of the town! It was good to see a photo of an old friend, Roland Carroll. Don't know if you can come up with any photos of the old "drive-in hamburger joints" that were on Highway 146. Nice to know the old oak tree is still standing on Texas Avenue. Cutting that tree would be like losing a family member! I haven't been back to Baytown since 1992! Keep up the great work on your web site, Bert! I recognize a labor of love when I see one! I have your page book-marked. Sincerely, Mary Cooley

My great-grandfather worked for Exxon back in the 1920s or early 1930s. I am trying to piece together family history--anyone know some folks who were around back then and might have known these people? Joseph (Allen) Chambers, Eva Chambers or their mentally handicapped daughter, Drusilla whom I am trying to track down. Her sister lost track of her years ago and we are trying to find her again. We think they attended the Goose Creek Baptist church of that time. Drusilla's siblings were Pauline and Lister plus an older half-brother James Edward Johnson. Thank you for any help. Caryn Getsinger
Both of my parents are from Baytown. My grandfather, Samuel Winston "Boudreaux" Nowlin (retired from Exxon -Humble Oil) was a competitive fisherman in the area. He also hosted the morning fishing radio show at that radio station on Decker Drive. Hi wife, Frances Grace Lamb Nowlin was the first registered nurse in Baytown. They lived on E. Jack street in Old Baytown.
My mother's parents, William Preston Barrett, Sr. and Dorothy Smith Barrett lived on the corner of W. Main and Carolina streets. Bill Barrett, also retired from Exxon (Humble Oil) used to operate a boat motor repair shop at his house. My mom has told me the story of how so many Baytonians worked at the plant back in the 30s,40s,50s that they used to display yard signs that said "Day sleeper" so that the neighbors and salesmen would be quiet and not disturb that household during the day. Neat stories about Baytown. I enjoy your website and if you are interested in some vintage Exxon and Baytown pics, let me know. I have lots! Karyn Nowlin-Gutierrez

As you travel west leaving Baytown on Decker Dr. approaching Park St. On the right there were two brick stanchions, actually you have to look slightly down as the ground has sunk and Park St. runs just behind them. It was always my understanding that this was the entrance to Bush Ranch. Is that land mark still visible and should it be marked also? PS I lived in Baytown from 1952 until 1978 and my grandfather was the first election judge there, so I have been told. His name was Daniel C. McGary, He died before I was born. He also was the scout master of Boy Scout troop 100. I may have some other questions later thanks. Bill McGary
I have some historic pictures you might be interested in they are the goose creek phone exchange i believe to be the first they are pics of the establishment with signs saying goose creek telephone exchange ..probably in the teens or the twenty's they are for sale .....thanks they would go x cellnt in your web. Kerri
During WW II I lived on Lafayette Dr...and I remember German POW's coming there every day to build driveways and sidewalks. I think they were held in a camp some where around Liberty...I would more info on this if you can find it...thank you! Sam Bartlett
The POW camp was located out Hwy. 146. If my recall is correct it was in the area where the Abby Division of Barbers Hill is now located. In addition to the work you mentioned they helped with harvest of the rice crop and other farming work. Quite an interesting sideline is a rumor which started when the POW camp was moved. The outhouse holes were backfilled and large wooden crosses installed to avoid accidental digging of those sites. The rumor stated that there had been a prisoner uprising and the crosses marked the graves of several slain guards. You may be able to get additional information from Kenneth Goodman or Ben Ed Stovall if they are still in Baytown. Incidentally, I worked with your dad at Exxon. Moved to Goose Creek in 1929 and left the area in 1993 to move to Georgetown. Graduate of REL - 1945. Claude McClelland Posted 3-14-05
I know where piles of old bricks are along Cedar Bayou. I have lived on Fleming street for 23 years and was out there today showing the bricks to my kids. I want to know more about the history so I can pass it on to my kids. There is also a concrete enclosure about 5' high and 15' x 15'. I don't know what it could be, but is near the old piles of bricks. In the past I have been able to find some bricks that still had Cedar Bayou engraved into them. Dawson
If you have an interesting observation about Baytown, please write here, for addition to this page.