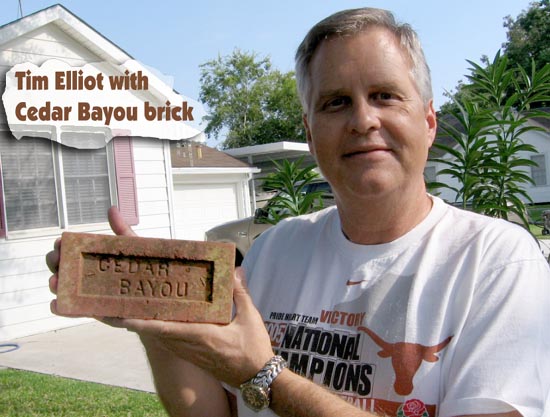 Brickyards along Cedar Bayou.
Update! Check the hi-def map below for many brickyard locations!

In 1849, there was one brickyard on Cedar Bayou and by 1870, there were three Immigrants
from Great Britain and Germany dominated the brick making craft

It took an average of 10 days to make a batch of fired brick in the 1800ís

Most brickyards only operated 9 months and closed during the cold winter months

Bricks made in Cedar Bayou were mainly shipped to Galveston on two-masted schooners

Bricks were made from 2 parts top soil, one part clay, and water from Cedar Bayou

Many brickyards were in operation along Cedar Bayou and one still reportedly exists over by I-10

- Hello Bert, I have been to the site of the brick yard often when I lived on East Texas avenue. My buddies and I explored most of the woods from Roseland park all the way to Devils elbow and the old ferry crossing. I found traces of the Brick lined mule path on the bank and the excavation where the clay for the bricks came from. there is still traces of The road from tri-city beach road to the brick yard. I also found a trace of the residence of either the captain of the Boat that carried the bricks to Galveston or the brick yard owner. There is a brick lined well in a clearing on a high bank about half way between the brick yard and the old ferry crossing. Thanks, Warren D. Hale, Jr. Goodrich, Tx
- I believe that one of those Englishmen making bricks at Cedar Bayou was my grandfather from Galveston. His name was Robert Palliser and he built many buildings in Galveston and across this part of Texas. One of those buildings was Union Station in Houston, which now stands as a part of Minute Maid Park. Harold Mathis Richmond, Texas
- I came across your website while trying to Google my Great Grandfather James Monroe Parker. He and his brother Roland owned a brick yard in the late 1800's. I know that he lived near Cedar Bayou and was wondering if you know anything. I have an article that says he made the bricks for the Christ Episcopal church and many other buildings of historic interest. I have been told by an older cousin, she is almost 90, that this Church is downtown. Does any of this sound familiar. I think he may also have been part of a logging business. Possibly with Dr. Nelson Dolen. Let me know if you have any information. Thanks, Victoria Purin
Sir, the Brick you are showing on the Webb page is not a Cedar Bayou. You are showing a Brick that was made by a press. The original Cedar Bayou Brick were a hand Made Brick. And on one side of the Brick was a emblem of a Cedar Tree. The Brick your are showing is what I call a Houston Brown.

One more fact about Cedar Bayous. Back in the 1870's the Cedar Bayou Brick plant was called Wrights Cedar Bayou Brick Plant. It's true a lot of buildings in Galveston had Cedar Bayou Brick on them. Today it's very rare that True Cedar Bayou Brick or on. The old Buildings that are left. About a year ago I sold all the Brick off of the Annunciation Catholic Church on Texas avenue across from Minute Maid Park. Those were the original Cedar Bayous. The were delivered straight from the plant. A Catholic Priest started building the church in 1867 and it was finished in 1873. Today it's very hard to find Cedar Bayous that are not contaminated. What I mean by that is a lot of buildings and old houses have other Antique Brick mixed in with the Original Cedar Bayou Brick. Like the brick you are displaying on your web page.

That Brick was probably made by old Houston Brick and Tile Company off of 1-10. They closed many years ago. Who ever made that Brick you are holding up just tried to fool Home Builders and the buying public by Engraving in the Frog Cedar Bayou. I guess you are wondering who is this idiot who thinks he knows everything about a Cedar Bayou Brick? I started Western Brick Co. Over 40 years ago. I don't owned Western anymore.

About 30 years ago I bought the Cedar Bayous off of a Building in Galveston. The Building was built in 1875. The Demolishing company found an old safe inside one of the walls. Inside the safe was an original invoice from Wrights Cedar Bayou Brick Plant. The invoice read. 1500 Cedar Bayou brick delivered by mule drawn wagon. The cost was $3.00 per thousand pieces including Freight. Today that same brick sells for $1700 Hundred to 2:000 dollars a thousand plus freight. Regards, Carl J.Schiro
If you have knowledge concerning brickyards along Cedar Bayou,
please write me here
Much of the information on this page comes from the excellent book 'The History of Baytown'
available at Sterling Municipal Library and the Baytown Historical Museum located at 220 W. Defee.