KKK waged reign of terror in Goose Creek
(published in the Baytown Sun on February 8, 2009)
For years I've been writing about local history but have avoided a painful subject, the Ku Klux Klan. I guess I thought that chapter in the book of Baytown would just go away if I ignored it. Tear out the pages. Don't want to think about it, read about it and certainly don't want to write about it.

Well, history won't go away, and it's time now for this "old Baytown girl" to acknowledge that the KKK existed here in the early 1920s, flaunting the slogan "white and Protestant." Olga Miller Haenel did a chapter on the KKK in her master's thesis, "A Social History of Baytown, 1912-1956," when she was a graduate student at the University of Texas in the late 1950s.

Her research paper, based largely on newspaper stories and interviews with longtime residents, is the source of my information. Some people who defended the Klan as a necessary evil to maintain law and order in a wild and wooly oil boomtown.

Enter the Klan.

Said purpose of the group was to serve a mild warning to those who misbehaved and broke the law. As it turned out, warnings were not so mild and innocent people suffered. A number of men of questionable character – thugs, in other words – joined the group, thinking the Klan would not bother them as long as they were members. And there were those who were forced to join the Klan. "It was either join the organization or leave town," one such individual told the Houston Chronicle.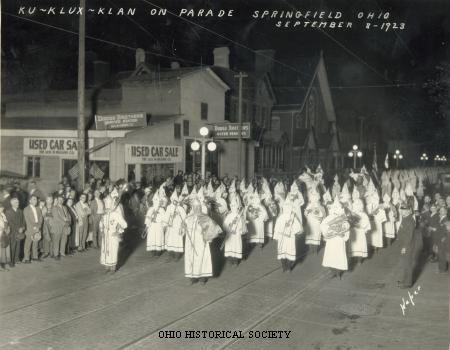 Employees found warning notes in their billfolds advising them to join. Robed Klansmen even entered churches during worship services to recruit members. People in the oil field would awaken in the morning to see a poster with the letters KKK attached to a tree or a tent. (Hint, hint.) A large all-day barbecue, held on the banks of Goose Creek stream, illustrated the acceptance of the Klan in the community.

Criminal District Judge C.W. Robinson, who despised the Klan, received threats when he announced plans to speak at a rally in Goose Creek. Undaunted, the judge began his speech by saying he never was afraid to speak where there was a Baptist church and a Masonic Hall. "With that opening," Haenel wrote, "he proceeded to give the Klan a verbal lashing." The Klan method of operation usually began with gossip about the so-called immorality of a citizen. After the story got around, an organized mob would invade the individual's home or business, put a sack over the victim's head and then lead him or her away to be whipped.

In one incident after whipping a woman, the mob held a prayer meeting and then took her back home. In another incident, the Klansmen left a man and woman chained together. In yet another incident, a man and woman were beaten on a lonely country road. The assailants then cut off the woman's long black hair and hung it from a telephone pole on Texas Avenue. Horrified citizens attempted to organize at a called meeting, but they were afraid to speak out. After milling about for an hour, the gathering dispersed. Local law enforcement officers also were intimidated, afraid to confront the Klan.

Meanwhile the Houston Chronicle and Houston Press conducted a vigorous campaign condemning the Goose Creek Klansmen, who by then were making headlines nationwide. In its report, the grand jury in Judge C.W. Robinson's court stated Goose Creek for more than two years had "a reign of terror unparalleled in this country." This was brought about not by the whole citizenship of Goose Creek, the grand jury reported, but by a small minority, probably not more than 50 men. "During that time, something like 20 persons were beaten. Among these were men, women and children, and one boy about 16 years old."

(7) After Klan members pleaded guilty to 17 indictments in Judge Robinson's court, the organization disbanded in Goose Creek. To this day, no one wants to believe those atrocious acts really happened in their hometown, but they did. Evil happens when good people say and do nothing.

Wanda Orton is a retired managing editor for The Baytown Sun.- Reprinted with permission of Wanda Orton
Lynchings in Harris County
(Published in The Baytown Sun on September 4, 2018)
Inscribed on the wall of the Peace and Justice Memorial Museum in Montgomery, Alabama, is the story of lynching's historical roots. Eight hundred six-foot slabs etched with names, dates, state and county symbolize each person lynched
One is for each county in the United States where a racial terror lynching occurred. That includes Harris, Fort Bend, Montgomery, Galveston, and Waller counties in Texas. Hanging from the ceiling of this open-air memorial, these steel columns are a haunting image of dangling corpses.
Who are the four whose lynchings have been documented as occurring in Harris County? John Walton was suspected of burglary and attempted rape in 1890. Before he could even be questioned or arrested, the owner of the burglarized home rounded up his neighbors. The owner's brother-in-law and a Houston policeman joined the group. They found John Walton hiding under a house. John fled into some nearby woods, but was shot down in a hail of bullets. The four lynchers were arrested but released on bail and never convicted.


Another victim was (1)Bert Smith who worked as a cook in the oil fields of Goose Creek, an area known as Baytown. (2)On Sept. 21. 1921 the wife of a white oil field worker alleged that a black man entered her tent at the camp while she slept. Bert became the chief suspect. A Lee College oral history teacher stated, "This colored man evidently got some whiskey and stumbled into a tent that was occupied by the man's wife.
Bert was arrested and put in jail, but the very next morning, (3) a mob of 1,000 oil workers broke into the jail and took him out to hang. A journalist tried to take pictures of the hanging, but his camera was destroyed. The mob killed Bert, then (4)brutalized and burned his body.
According to Darryl Jones: Bert Smith was hanged in a tree in Pelly in the lot behind (5)the old Pelly City Hall which does not exist at this time. The picture I have was taken by VC Porter before he was city Marshall in Pelly. It's a very close up picture. Standing just a couple of feet away from Bert is my great aunt Opal Sparks-Epperson when she was 10 years old.
Many blacks fled the area. One man might have died at a lynching, but the entire community feared for their lives. This is exactly the reason for the very public deaths. (7)Though 15 men out of the 1,000 in the mob were arrested, none were convicted.
(8) The name of the third victim in Harris County is unknown. We do not know the crime (if there was one) he was accused of, but he was murdered Oct. 27, 1919.
Last one was Robert Powell. Two policemen questioned an "unruly" crowd of black men standing on a street corner as to why they were out so late. The officers hassled and roughed up the black men. Robert was so severely wounded, he had to be taken to the hospital, then to the sheriff's office. A policeman was shot. The mob took Robert out to what is now the intersection of I-10 & 610 on Post Oak. Around dawn his battered body was discovered hanging from a bridge. Witnesses say that police stood by and watched the hanging.
"Houston has been shamed before the nation," said a front page editorial in the Houston Chronicle in June of 1928. Powell's hanging was just days before the Democratic National Convention. Now Houston hopes to host another Democratic National Convention in 2020. Claiming the steel slab that has been made available for Harris County would be a special way to confront this chapter in Harris County's dark history.
Surely every county should claim the slabs memorializing their lynching victims. The memorial staff will work with counties to "engage with this sad history in a constructive and meaningful way."
Lynching is not merely an historical event, but a real part of our history. The past has been repressive and violent, but we must remember and honor those who were killed. We must continue to strive for something better. JoAn Watson Martin
"My grandmother was born in 1906 and had 2 siblings. My g-grandfather moved to Baytown when the Humble Oil & Refinery was being built. He was a pipefitter and rose through the ranks as a foreman. When my grandmother was a young pre-teen she and her sister were sent to St. Agnes Academy, a Catholic Boarding School in Houston, then located on Fannin. Her brother Gerald was sent to La Porte to study at St. Mary's seminary for high school. The event that precipitated this move was Klan activity aimed at Catholics. She remembered a cross being burned in their front yard. I have no idea where they were living at the time but my G-grandfather was Tom Griffin, she was Kathryn Griffin Fortney, and she married William H. Fortney, in the late 20's. I wondered if you have any information on the Catholic families who were terrorized. I grew up in Baytown as a Fortney—my whole family lived there. Tom Griffin died there but I have been unable to find out where he is buried. Thanks for your history of klan—it definitely fits my family's recollection that was passed down over the years." Anne Fortney Way
(1) His name was Burl Smith, not Bert. The arrest record, inquest record, and two of his four death certificates give his first name as Birl. One death certificate has it as Birt; the fourth one is incomplete and has no name. In about 20 newspaper articles (in the Houston Post, Houston Chronicle, and Galveston News), his given name was reported as Birl, Berl, Burl, Birt, Bert, and Burke. However, when he registered for the draft four months before his death, he signed his name as Burl Smith. That should take precedence over anything written after his death, and it is very close to Birl, as written in the official documents related to his death.
(2) The date of the alleged offense was Thursday, September 20, 1917, not September 21, 1921. The date of the lynching was Friday, September 21, 1917. These facts are stated in the arrest record, the inquest record, and the first newspaper reports in the Houston Chronicle (September 21, 1917) and Houston Post (September 22, 1917).
(3) The inquest record says "more than 400" were present at the hanging. The Houston Post, 22 Sep 1917, p. 11, says "between 300 and 400 men surrounded [the jail], and "a crowd of about 500 gathered around the tree." The Houston Chronicle, 21 Sep 1917, p. 1, says "a crowd of more than 800 stormed the jail," but on 25 Sep 1917, p. 8, The Houston Chronicle quoted Officer Veale as saying, "there were about 500 or 600 men in the mob."
(4) The only injuries mentioned in the inquest record are one knife cut, an inch long, and a scratch. There's no mention of burning."
(5) the inquest record states, "Body was hanging on East side of Ash Tree Back of Methodist Tabernacle in Middle Town of Goose Creek, Texas." That's on Main Street in what became Pelly some years later. This event occurred before the towns of Goose Creek and Pelly were incorporated. In fact, most of Goose Creek wasn't even platted yet (that happened later in 1917).
(6) Haenel's thesis, A Social History of Baytown, Texas 1912-1956. Chapter II "Two Years of Ku Klux Klan". Ibid: It should be noted that the Klan was active in Goose Creek only from 1921 to 1923, and thus was not involved in the lynching of Burl Smith in 1917.
(7) It is true that not one of the 15 was convicted. All were charged and jailed, but they were not indicted by the grand jury. The three lawmen who were involved (facing a mob of 500 or so) were not at the site of the hanging, a mile away from the jail, as they were being detained at the jail by some of the mob, so they couldn't testify as to which of the mob really did the deed. And no one else was talking.
(8) According to his death certificate, his name is John White, he was 21 years old, and he was a native of Louisiana. The date of his death was Tuesday, October 21, 1919 (not October 27). His father, D. N. White, was a resident of Crosby. According to the newspapers, John White was a resident of Alexandria, Louisiana and had only been in this area for three days when he was jailed in Crosby on October 21 on "a petty charge." It was reported that White was alone in the locked jail at Crosby when a fire broke out in the jail that evening, and that he succumbed before anyone could break into the jail to rescue him. No mob was involved. The district clerk's office reports that they did not find an inquest record for John White. There was a "John H. White, colored, laborer" in the 1918 Alexandria, LA city directory who was not there in 1921, but it's unknown if he is the same John White who was in Crosby, Texas in October 1919.
Harris County Historical Commission