The Robert E. Lee Gander annual 1929 - The Building – page 8
In the beautiful Robert E. Lee High the students have a school of which they may be justly proud. The high knoll crowned by the majestic building, surrounded by moss-draped oaks, is a picture which can hardly be duplicated anywhere. The students can hardly appreciate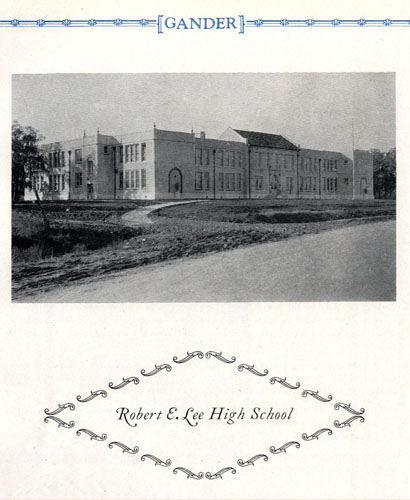 how fortunate they are in having such a well situated school. The building, in itself a fitting tribute to the great Southern General, surrounded by clustering trees and overlooking the stream from which the city derives its name, is a sight that is never forgotten when it is once seen.

The interior of the building is well planned with the utmost attention to detail, and has practical utility and conveniences without detracting from the school's beauty.

Upon entering the main hall the first thing seen is a three-quarter length portrait of the great Southerner for whom the school is named. The numerous classrooms and laboratories provide ample space for expansion. One of the most attractive features of the high school is the immense auditorium. Aside from the immense seating capacity of the lower floor, there is a spacious balcony which noticeably increases the number of seats. The auditorium has a projection room also, from which movies may be shown. This is a great addition to the school's facilities.

Another feature of the high school is the immense gymnasium which opens from the stage. The gymnasium is a great improvement and enables such contests as basketball, volley ball, and indoor baseball to be played in the building.


Altogether, inside and out, the Robert E. Lee school is a pleasing and inspiring edifice and it is only fitting that tribute should be paid to Mr. Payne who planned the structure.

Surely, with the atmosphere of high ideals created by our school, we cannot fail to go forth better people and better citizens.
Copyright 1929 Helen Lirette, Editor Morris Trifon, Manager